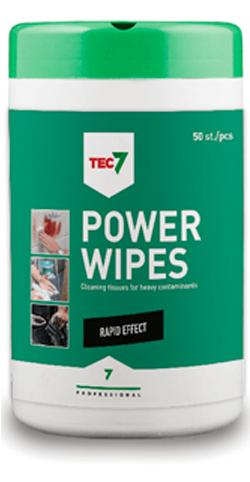 Extreme Cleaning Wipes
TEC7 Powerwipes offer the power of a strong solvent in ready-to-use soft tissues.
Perfect for cleaning and degreasing of hands, tools, motors, boats, motorcycles and much more. They are skin friendly and protect the epidermis as it contains glycerine. Just wipe over surface afterwards with a dry cloth.
Tissues: strong polycotton fabric.
Cleaners: Ethyl alcohol - Dimethyl Glutarde - Dimethyl Succinate.
Odour: added scent.
Number: 50 or 150 pcs.
Cleans: inks, greases, oils, felt-tip pen marks, shoe polishuncured 2-component lacquers, PU paints, PUR foam, polyester, epoxies2-component adhesives, MS polymers.
Skin protector: glycerine.